Internet Marketing Lead Generation Ecosystem
The word "ecosystem" has meaning outside of a biology textbook. At its most basic definition, it means a collection of living organisms in a certain location that all depend on one another for survival. They form a complex network of interdependency in which removing one organism would have dramatic repercussions on all the others. For example, killing all the grass on the African plains eventually would cause lions to die.
Without the grass, there would be no herbivores to keep the lions fed. Based on this definition, an ecosystem can be described as any kind of complex system in which each component is necessary for others to thrive.
This may already seem familiar to Internet marketers, who manage immense ecosystems of their own. These ecosystems are their online lead generation campaigns, which depend on the coming together of multiple complex systems to form a much larger system that generates new sales leads for their businesses.
These lead generation campaigns need to have all their components functioning in perfect harmony to deliver the best results. If any element is misaligned or missing, it can result in failure of the entire system.
However, keeping everything running smoothly can be extremely challenging for Internet marketers due to the sheer number of components that go into these campaigns and their complexity. With all the reasons why visitors come to lead generation websites, it's crucial that lead generation campaigns be constructed to capture and convert as many of those types of visitors as possible.
That's why it's essential for Internet marketers to have a blueprint as they construct their campaigns. In nature, ecosystems develop slowly over millions of years of evolution. Internet marketers don't have the luxury of time. They need to know how to build successful lead generation ecosystems right away.
Building the Perfect Ecosystem
We at Straight North, an Internet marketing company based outside of Chicago, have spent a lot of time trying to put together something Internet marketers can use as a blueprint for building a successful lead generation campaign.
Through the research of our professionals, we have identified the most important components all successful lead generation campaigns must have to convert as many website visitors as possible and developed the infographic below.
For instance, many visitors come to a website to research a product or service. They may not need convincing that they should have that particular product or service, only help finding the one that's right for them. For these visitors, content such as testimonials from past customers can be very persuasive. Other visitors might only be curious about a product or service, not yet entirely convinced that they would want it.
For these visitors, a lead generation campaign can convert them with dynamic, eye-catching content such as videos and high-quality photography. Other visitors don't even know they want that particular product or service yet, but well-crafted social media posts shared by their friends can inspire them to visit the website to start investigating.
Road Map to Greater Success
These and other elements can be found on the infographic below, and it's easy to see how they all feed into the main objective of creating new customers and driving more business.
Any online marketer who wants to have the most effective lead generation campaign possible needs to be aware of how essential these elements are and how they fit together. Using this infographic as a road map can help online marketers build their campaigns from the ground up to be as effective as possible.
Initially, this blueprint was created to serve as an internal training tool for Straight North's Internet marketing professionals. In time, however, the value of this infographic to serve as a useful resource for Straight North's clients and other Internet marketers became apparent.
Many times, marketers know they need to have myriad kinds of content and elements to attract and convert visitors through their websites, but they don't know the sheer scope of all those elements. Being able to visualize the lead generation process can help these marketers build a campaign that works.
Whether you're building a lead generation campaign from the ground up or working to rebuild an existing campaign to become more effective, this flowchart representing the Internet marketing lead generation ecosystem can be a powerful resource to help you along your way.
Ecosystems in nature take thousands upon thousands of years to develop into fully functioning, interdependent complex systems. However, you don't have to wait that long for your lead generation ecosystem to take shape. Use this infographic to guide your efforts, and you'll be able to see a more effective and efficient lead generation process emerge from the chaos.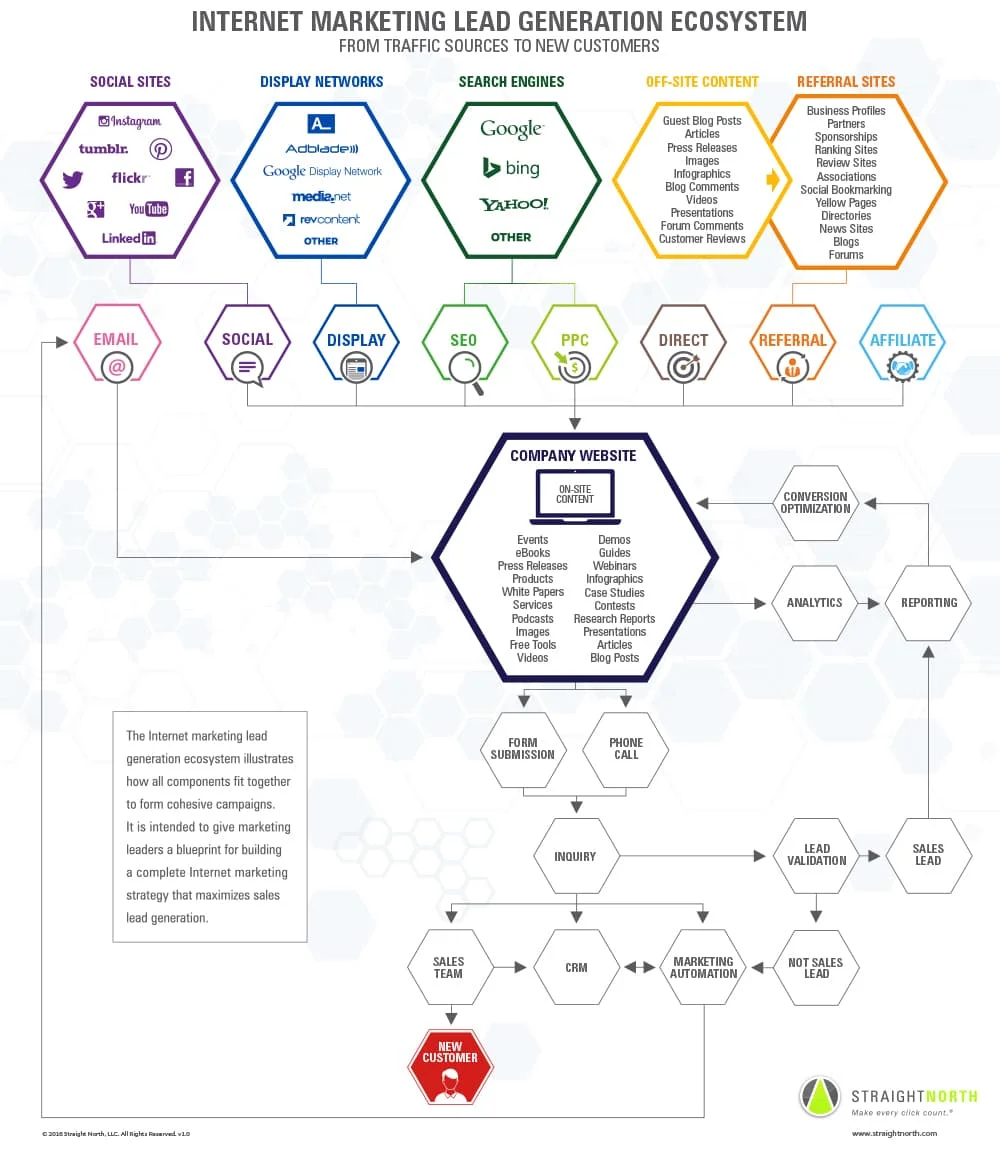 Infographic created by Straight North, an internet marketing company
Author Bio:
Brad Shorr is Director of Content Strategy at Straight North, an Internet marketing firm in Chicago that provides SEO, PPC. and web design services. With more than 25 years of sales and marketing experience, Brad has been featured in leading online publications including Entrepreneur, Moz and Forbes.